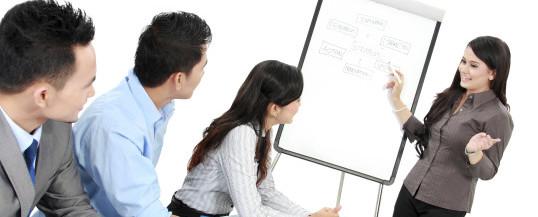 Many things are important when giving an English presentation and they can include the design, your slides, your English, and your presentation style.
By design I mean the way you develop your presentation up until you finish the slides.  I would suggest that you first start from what result you want to have when you finish giving your presentation.  This can be a sale to the customer, a decision by your peers or bosses, or the information that you want them to remember.  If you know your result then you can decide on what key pieces of information you want them to remember from your conclusion.  The key points will determine the information and data that you put into the main body of your presentation.  After you know the result, the key pieces of information, and the information and data that you are including in your presentation, it will be easy to put together your introduction and outline.
The way you do your slides may depend a lot on what your company wants you to use as a template.  If you have some room to work with, remember to try to keep your slides simple and only include the information that you need to include.
Your English is something that you can work on with practice.  This you can do by recording your practice sessions and determining where you have problems.  Reviewing your sessions will also help you with your style.  Another thing that will help you with your presentation English and style is a coach or teacher.  These are people that have had experience in giving and teaching presentations.  They can help your find and correct your English problems and help you adapt and change your style.  To find out more about the English for Presentations course that I offer you can go to my Presentations Description.
For more about PowerPoint, a useful presentation software, you can go here – http://en.wikipedia.org/wiki/Microsoft_PowerPoint