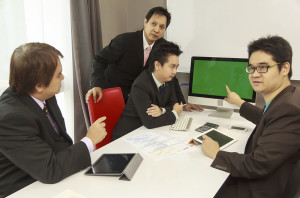 This Business English Course will deal with many things related to learning business English.  We will look at the different business situations that are requested by the student.  We will also work on pronunciation and intonation, and grammar.  If there is a need, we can do some preliminary business letter and email writing included in this course.
What is business English? It is the words and phrases used in different business situations and industries.  It is speaking and writing English well.  We will study business vocabulary, the different words and phrases that are related to different business situations, that you wish to include in this course.  The different situations we can look at include negotiations, meetings, telephone calls, etc. These situations have different words and phrases associated with them as well as different structures for interaction among the speakers.  Many of the words and phrases can be used in different situations.  One thing we will talk about is preparation for the different business situations that you will find yourself in.
Business English Course – Pronunciation
In this business English course we will work on your pronunciation, the way you pronounce the words, and your intonation, the rhythm you use when speaking.  As you know, English has a distinct rhythm when spoken and this comes from intonation, the stress or emphasis you place on certain words.  Pronunciation we will work on by looking at phonics, and intonation we will work using different exercises to improve your understanding of what words and syllables should be emphasised.
Business English Course – Grammar
Grammar is another thing that we will study in this course.  We will review your grammar problems as well as the common errors of non-native speakers.  These will include the use of gerunds and "to" plus infinitives, prepositions, present and past tense, subject verb agreement, and adjectives and adverbs.  We will do this first by identifying your problems using writing and speaking exercises.  After this there will be some grammar exercises to help you improve in these areas.
If needed, business writing will be included in this course.  We might include elementary email and business report writing.  The writing that we do will depend on what writing you want or need to do in this business English course.  We can add more writing by adding exercises and material from my other courses such as Business Correspondence, Writing, and Resume Writing.
This is what you will obtain by taking my Business English course. As you can see this course is flexible and can be tailored to meet your needs.
For a description of Business English visit Wikipedia
You can also see my video about Business English Courses and how to improve your Business English on John's Online English's YouTube channel at http://www.youtube.com/watch?v=lACoofdrwi8
To find out more please complete our
Information Form