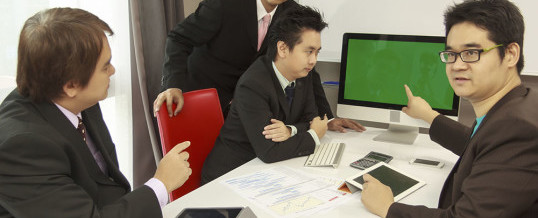 Teaching Business English Lessons
Why did I start John's Online English to teach business English lessons to non-native English speakers?  The simple answer is that I wanted to start my own business.  The long answer, and we'll look further at this in the blog, is that I looked at different business ideas and came to the conclusion that teaching Business English online was the best business for me.
How did it come to teaching Business English lessons online?  I did look at other businesses such as: a hamburger restaurant; a restaurant; renting motorcycles; owning a bar; and a few others.  But, I looked at what experience I had in the different businesses as well as the capital (money) needed to start, and the chances of success.  I weighed these all together and saw that I had many hours teaching Business English lessons and courses.  I was also good at it because of my many hours of teaching English.  It is said that you are an expert or very good at something after doing 10,000 hours of it.  This is an average, but you need a lot of time and effort to be good at anything.  Thus, it was probably the best idea to start a business at which I had experience in the service of product – teaching business English.
My Business English Lesson Experience
I have many years' experience in teaching Business English lessons and courses in various categories of Business English.  My business English teaching experience includes:
Job search in which I taught how to write resumes and cover letters, and to answer job interview questions

Presentations which included how to develop and design a presentation, presentation style, hand gestures and movement, as well as English phrases to use in different parts of the presentation

English writing including business reports and emails.

Business English which included business phrases for different situations and business words (vocabulary)

English for Negotiations for which I had some experience from my business life and where you teach English phrases to use in different stages of a negotiation.
Most of my business English lesson teaching experience came from teaching for many years at the International Trade Institute (ITI) a part of the Taiwan External Trade Council (TAITRA) which is under the Ministry of Economic Affairs (ROC).  Besides co-authoring an email writing book I taught business English at a high level to university graduates.  The courses I taught included English for Negotiation, English for Meetings, Advanced Business Systems (case studies), Job Search (interview preparation and resume writing), Writing, English for Presentations, Business Report Writing, Business English, and Business Correspondence (email writing).
I also gained curriculum development experience at ITI, so I am able to design business English courses and I can customize courses and lessons to match client's needs.  My business background adds to what I can teach students about job interview skills, not just the  English phrases, but I can give them an idea about what the interviewers are looking for, how to answer questions, and how to present themselves.  This is because I have done all this before and I know what works.  The teaching experience coupled with my business background in telecommunications, financial planning, investing, and entrepreneurship make a good combination for teaching business English lessons and explaining Business English terms and business ideas.
As you can see, I have had many hours experience teaching Business English lessons, so I wanted to use this experience and knowledge to create a business where I had the background to be able to do a good job with the service right from the start.  The business end of things I could learn as I go easier because I did not have to learn how to provide the service at the same time.
My Business English Lesson Teaching Approach
From my many hours teaching business English lessons I have developed an approach that I think works well with students that have a good level of English and have the ability to think for themselves.  I developed this because when I taught I would think about it, discuss it with good English teachers, make changes and adapt my teaching style.  I was trying to provide a good service to my students by developing methods and ideas that would improve their English and also make them better business people.  My approach developed into getting students to think about it, give a structure to use, give ideas, and let the student come up with their own answers, style, ideas, etc.  This method has helped my one to one students do well in their presentations and job interviews. I also have a business approach to teaching business English which came from my more than 20 years in business, my MBA, and my entrepreneurial endeavours.  One of my focuses, besides business English lessons on business topics, is pronunciation and intonation.  Intonation is a little unknown contributor to good pronunciations (see my blog on intonation).
When teaching business English lessons I prefer to do one to one classes.  This is because in a one to one situation you can focus on the needs of one student.  This is also possible in classes of two or three students.  In a one to one lesson or one with two or three students you can easily see the improvement in the English skills of your students.  That is one of the rewarding parts of teaching – seeing your students learn.
Why I started my Business English Lesson teaching business
It was a question of starting a business around something I was good at, and had considerable knowledge about.  I had the experience in business and teaching business English, but I did not want to teach in a school.  A friend suggested a web site to teach English lessons, my first reaction was – no.  I went away and thought and thought about it.  I have many hours teaching business English, but I don't want to teach for a school, so the website idea, where I would teach my own students online and run my own business, was a good idea – Business English Online – from this "John's Online English" was started.
This is why I started John's Online English to combine wanting to start my own business and my experience in teaching Business English.  By doing something I was good at as a business the chances of business success would be greater.  I took what I was good at and turned it into a business.  I didn't have to worry about learning how to teach Business English lessons because I had the experience, I just had to worry about starting and running the business.  This is why I am teaching business English lessons online
See this site for some comments bout John's Online English http://online-esl-blogger.blogspot.com/